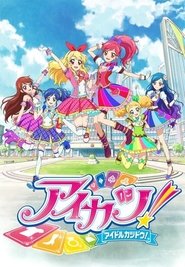 Aikatsu! Season 2 Episode 13
As idols from both Starlight Academy and Dream Academy gather to participate in the Red and White Aikatsu Battle, Mister S is spotted, hoping to find the person responsible for Dream Academy's rise to fame somewhere among them. After interviews, Ichigo, Aoi, and Ran go to greet the event's super special guest, enka singer Sabuko Nishijima, helping to carry her giant 'Enkatsu card' that she had brought to the event.
Episode Title: Red-White Aikatsu Battle!
Air Date: 2013-12-26
Year: 2013