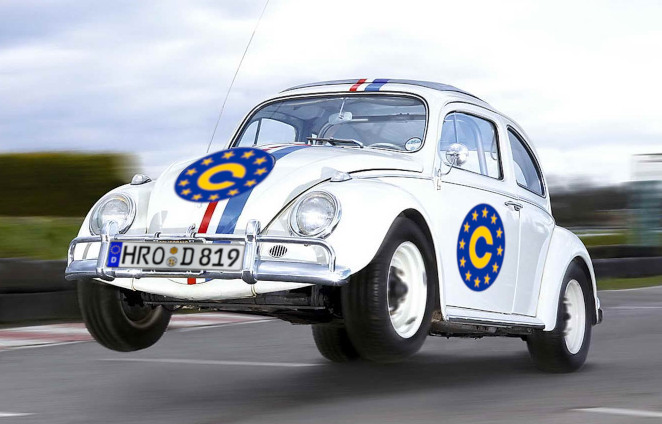 Today, the EU held a routine vote on regulations for self-driving cars, when something decidedly out of the ordinary happened...
The autonomous vehicle rules contained a clause that affirmed that "data generated by autonomous transport are automatically generated and are by nature not creative, thus making copyright protection or the right on databases inapplicable."
This is pretty inoffensive stuff. Copyright protects creative work, not factual data, and the telemetry generated by your car -- self-driving or not -- is not copyrighted.
But just before the vote, members of the European Peoples' Party (the same bloc that pushed through the catastrophic new Copyright Directive) stopped the proceedings with a rare "roll call" and voted down the clause.
In other words, they've snuck in a space for the telemetry generated by autonomous vehicles to become someone's property. This is data that we will need to evaluate the safety of autonomous vehicles, to fine-tune their performance, to ensure that they are working as the manufacturer claims -- data that will not be public domain (as copyright law dictates), but will instead be someone's exclusive purview, to release or withhold as they see fit.
Who will own this data? It's unlikely that it will be the owners of the vehicles. Just look at the data generated by farmers who own John Deere tractors. These tractors create a wealth of soil data, thanks to humidity sensors, location sensors and torque sensors -- a centimeter-accurate grid of soil conditions in the farmer's own field.
But all of that data is confiscated by John Deere, locked up behind the company's notorious DRM and only made available in fragmentary form to the farmer who generated it (it comes bundled with the app that you get if you buy Monsanto seed) -- meanwhile, the John Deere company aggregates the data for sale into the crop futures market.
It's already the case that most auto manufacturers use license agreements and DRM to lock up your car so that you can't fix it yourself or take it to an independent service center. The aggregated data from millions of self-driving cars across the EU aren't just useful to public safety analysts, consumer rights advocates, security researchers and reviewers (who would benefit from this data living in the public domain) -- it is also a potential gold-mine for car manufacturers who could sell it to insurers, market researchers and other deep-pocketed corporate interests who can profit by hiding that data from the public who generate it and who must share their cities and streets with high-speed killer robots.
If you thought the new sports event organizers right in the Copyright Directive represented an extreme view on copyright in JURI, just wait till you hear what happened in today's vote on autonomous vehicles. #fixcopyright #notreally

— Max Andersson (@MaxAndersson) October 10, 2018
Denuvo bills itself as the best-of-breed in games DRM, the most uncrackable, tamper-proof wrapper for games companies; but its reputation tells a different story: the company's products are infamous for falling quickly to DRM crackers and for interfering with game-play until you crack the DRM off the products you buy.
READ THE REST
Locking bootloaders with trusted computing is an important step towards protecting users from some of the most devastating malware attacks: by allowing the user to verify their computing environment, trusted computing can prevent compromises to operating systems and other low-level parts of their computer's operating environment.
READ THE REST
The Yokohama Board of Education has posted scans of six fantastic catalogs from Hirayama Fireworks and Yokoi Fireworks, dating from the early 1900s. The illustrated catalogs are superb, with minimal words: just beautiful colored drawings depicting the burst-pattern from each rocket.
READ THE REST
In photography as in film, all the real artistry is in post-production – increasingly so, with the new possibilities cropping up in digital imaging. If you're ready to get serious about your photography, may we suggest HDR Projects 2018 Pro. As working photographers can tell you, this imaging software can help you re-imagine even the […]
READ THE REST
A picture can be worth a heck of a lot more than just a thousand words. If you've squinted for ages trying to get just the right photo, you might have the right passion for a career behind the camera. You might even have the right equipment, but do you have the know-how? The Beginner-To-Expert […]
READ THE REST
In case you hadn't noticed from the sleigh bell-heavy music and the hues on your Starbucks cup, the holiday season hasn't shown any more patience this year. But that doesn't need to be a bad thing, especially if you're hoping to get a jump on your shopping. Retailers aren't waiting til Black Friday to dish […]
READ THE REST

Click here to open external link